Sportsman's Lodge has approximately 22 acres dedicated to paintball. We offer four (4) fields to play in. We have the largest woods ball facility in the area as well as the areas largest CQB town. Large groups are welcome, we have plenty of room for you. We have a full service Pro Shop with almost everything you need. If it is not in stock, we can order it for you.
WOODS FIELD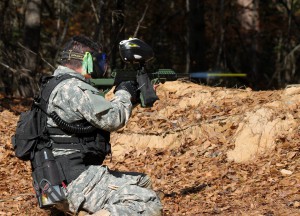 We offer 22 acres of woodsball including three (3) tactical courses with plenty of
places to hide and plenty of ambush areas.
LODGE TOWN
This course offers a small urban city or village with more than 14 buildings for great CQB action. Move
in and out of buildings to crate the tactical edge or retreat and re-group in and out
of the protective structures.
Our two other fields are Burms / Landing Zone and Speed Pallet Field
Waiver Form
To download our paintball waiver form, please click here.
Photo Gallery
To see photos of our numerous paintball courses, please click here.