The Sportsman's Lodge offers a variety of classes to help you feel comfortable with your firearm. From NRA basic pistol courses, North Carolina Concealed Carry Handgun course,
private lessons and  Ladies Beginner Shooter  classes. We can design your class around your personal needs and skill level.
NORTH CAROLINA CONCEALED CARRY HANDGUN CLASSES
Saturday Class 9-5:00 pm
Course Length: 8 Hours (State Required)
• Course Fee: $75.00 Dollars  Pre Registration and Pre Payment are required. 
• Equipment needed: 1 box of Ammunition and your firearm. You can rent one of our pistols if you do not have your own,
however you must use our ammunition when you rent our pistols
The Sportsman's Lodge is proud to host the NC concealed handgun class every Saturday at a price of $75.00 per student. Our classes fill up quickly so pre-registration and payment in full are required to get on the roster for any of our upcoming classes. To register for our NC concealed handgun class please call us at (910)937-6334 and pay by phone, or feel free to visit us at our shop and pay in person.
Once you're registered for our class, please be at the Sportsman's Lodge at 8:30 a.m. the Saturday of your class for check in. Each student will need a pistol and 30 rounds of ammunition for qualification. If you need to rent a pistol for the class, the Sportsman's Lodge can provide you with a rental the morning of your class for an additional fee to be paid at the front desk. Please feel free to bring lunch, snacks, and drinks with you to the class, as you will be here for 8 hours without an opportunity to leave for an extended break to get food. If you would like to purchase a meal for deliver to our classroom, we provide a menu and order form for Jimmy John's for delivery between 11:30-12:30 in the afternoon.
The Sportsman's Lodge is proud to host several NC DOJ certified concealed handgun instructors, in one of our two classrooms each Saturday, however space is limited for these classes. Please note that once you are registered for a class if you need to cancel or reschedule you must call us no later than the Wednesday the week of your class. If you wish to reschedule or cancel your class after Wednesday the week of your class, or you fail to show up Saturday morning you will regrettably lose your $75.00 pre-registration. Due to the high demand of the NC concealed carry class, we are often out of seats for the weekends upcoming class by Thursday the week prior. As a result, if you cancel after Wednesday, we may have missed our opportunity to fill your vacant seat, and the instructors we invite to teach for us will miss out on the chance to teach to a full class.
Thank you again for choosing the Sportsman's Lodge, and we look forward to seeing you soon.
 PRIVATE LESSONS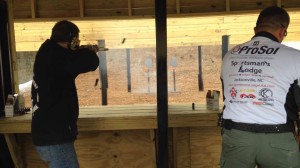 • Fee: $35 per hour. Includes Range Fee. Call (910) 937-6334 for more information and scheduling and ask for Paulette.
• Equipment Needed: Bring your own pistol, rifle or shotgun and ammunition or you can rent one from us. If you do rent our pistols, you must use our ammunition.
• Type of training: We can tailor lessons to suit your need. For example, we can improve your basic marksmanship, teach combative shooting skills or shooting from a concealed holster, to name a few.
LADIES CLASSES
(for ladies only)
Classes are offered on the last Sunday of every month. From 9 am  until noon. . Pre Registration and payment are required prior to attending class. This is a limited space class with only 10 students.
• Course Length: 3 Hours
• Course Fee: $40 Dollars
• Course Content: Safety, operation, and function of pistols, marksmanship, and range use with 22- caliber pistol (pistol, target, ammunition, and lesson included).