The Sportsman's Lodge offers a variety of classes to help you feel comfortable with your firearm. From NRA basic pistol courses, North Carolina Concealed Carry Handgun course,
private lessons and  Ladies Beginner Shooter  classes. We can design your class around your personal needs and skill level. We also offer weapon familiarization classes and Reloading Classes
NORTH CAROLINA CONCEALED CARRY HANDGUN CLASSES
Course Length: 8 Hours (State Required)
• Course Fee: $75.00 Dollars   (pre registration recommended for Monday-Tuesday Class) )
• Equipment needed: 1 box of Ammunition and your firearm. You can rent one of our pistols if you do not have your own,
however you must use our ammunition when you rent our pistols
Every Saturday: Registration begins at 8:45 am, class begins at 9 am.
Every Monday and Tuesday: 1/2 the course Monday, 1/2 the course Tuesday, course starts at 6 pm each night.
Register at 5:45pm on Monday night. (3 student requirement)
PRIVATE LESSONS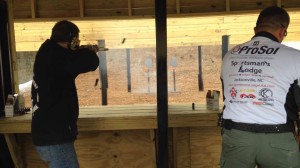 • Fee: $40 per hour. Call (910) 937-6334 for more information and scheduling and ask for Seth John.
• Equipment Needed: Bring your own pistol, rifle or shotgun and ammunition or you can rent one from us. If you do rent our pistols, you must use our ammunition.
• Type of training: We can tailor lessons to suit your need. For example, we can improve your basic marksmanship, teach combative shooting skills or shooting from a concealed holster, to name a few.
LADIES CLASSES
(for ladies only)
Classes are offered on the last Sunday of every month. From 9 am  until noon. . Pre Registration and payment are required prior to attending class. This is a limited space class with only 10 students.
• Course Length: 3 Hours
• Course Fee: $40 Dollars
• Course Content: Safety, operation, and function of pistols, marksmanship, and range use with 22- caliber pistol (pistol, target, ammunition, and lesson included).
NRA BASIC PISTOL COURSE
• Course Fee: $125 Dollars
• Call for Dates: (910) 937-6334 Ask for Seth John